The Pacific Early Childhood Education Research Association – Hong Kong (PECERA-HK) and Yew Chung Education Foundation were very pleased in co-organizing a public seminar on "Play & Literacy: From Research to Real Life Implications".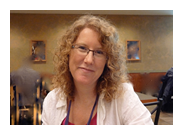 Play is viewed as integral to learning in the early years, with play based learning now grounded in Canadian and international educational policy and curricular frameworks. This presentation reviewed the research on "play and literacy", illustrating children's rich capabilities for comprehension, symbolic thought and literate behavior.
Video and photography of real classrooms demonstrated exemplary play materials, classroom designs, and adult-child interactions in the context of "play–full" learning. Participants reflected collaboratively on implications for their own practice and ways to meaningfully involve children and families.
.
Kimberly Bezaire earned her Ph.D. (2009) in the Department of Curriculum Studies at the Ontario Institute for Studies in Education / University of Toronto. She was a Registered Early Childhood Educator, Faculty member, and a Co-ordinator at the School of Early Childhood at George Brown College. Her previous teaching included work in child care centres, labschools, and kindergarten classrooms, as well as teacher education programs in British Columbia and Ontario. Her research explored the environmental conditions that support play and learning in early years settings and homes. She is a published author in early literacy, play, and the arts. Most recently, she published a Resource Kit and series of podcasts with the Elementary Teachers Federation of Ontario, on the topic of Play- Based Curriculum for Full Day Kindergarten educational teams.