The Pacific Early Childhood Education Research Association – Hong Kong Chapter (PECERA-HK) and the Yew Chung Community College (YCCC) successfully co-organized a seminar on "High Quality Early Education and Care: What are the Ingredients?" on June 14, 2013 (Fri).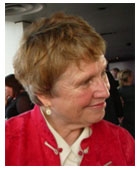 It is our honor to have Professor Kathy Sylva as our guest speaker. Prof. Sylva is a Professor of Educational Psychology at the University of Oxford, Department of Education. She has conducted large scale studies on the effects of Early Childhood education and care on children's development. She has been lead researcher on the Effective Pre-school and Primary Education longitudinal study (EPPE). Prof. Sylva also leads randomised controlled trials to evaluate parenting programmes aimed at supporting children's reading in Year 1. She has published 7 books and more than 100 papers, most on early childhood, early literacy, and ways to support families. She has been specialist adviser to the UK Parliamentary Select Committee on Education 2000-2009 and was awarded an OBE in for services to children and families.
Professor Kathy Sylva presented research findings from several studies in the UK – all aimed at identifying high quality centres and the effects they have on children's development. She also discussed the contribution of pedagogy and of staff qualifications to the creation of early childhood environments that both nurture and challenge the child. The studies include the EPPE Project (Effective Preschool and Primary Education) and others carried out at the University of Oxford.